Boot-Up Manager
Boot-Up Manager is a Perl-Gtk2 application to handle runlevels configuration of any debian derivative system. With this program the user will easily start and stop boot-up scripts, without the necessity to handle thru complex links and permissions.
Boot-Up Manager has been developed and tested on Ubuntu, but as it only relies on Perl-Gtk2 libraries, it can be run on any Debian-like system.
Documentation
Documentation can be found here.
Installation
Debian package
BUM is currently in Debian unstable/testing and in all Ubuntu's repositories. These users can just apt-get it.
apt-get install bum
Other users of debian-derivative distro's can just download the .deb package and type, from a terminal:
sudo dpkg -i bum_2.1.8-1_all.deb
Your Boot-Up Manager is placed into System->Administration menu.
Tarball
Unpack your tarball and build the program:
tar -xvzf bum-2.2.0.tar.gz
cd bum-2.2.0
./configure --prefix=/usr
make
make install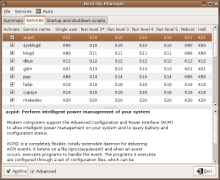 Last command must be run with root privileges. Please read the INSTALL file, for configuration options.
Requirements
Boot-Up Manager dependencies are: gksu, perl, libgtk2-perl (>=1.100-1), libglib-perl (>= 1.100-1), liblocale-gettext-perl, libgtk2-gladexml-perl
Download
SVN
Access to the Boot-Up Manager source repository is available through both web browser and Subversion client interfaces.
With the Subversion client installed, obtaining a working copy of Boot-Up Manager codebase is as simple as:
svn checkout http://initd.org/svn/thesaltydog/bum/trunk/ bum
When checkout is over, you can compile and build the project as reported in the Installation section of this web page.
Support
Discussions relating to Boot-Up Manager and program localization take place on the Ubuntu Linux Forum.

Almost all the services started with init scripts in runlevels 2-3-4-5 and rcS.d don't have a standard, "human readable" description of their main behaviour. Very often the package description for these services is very cryptic and the common user is quite disorientated and doesn't understand the meaning. Boot-Up Manager (BUM) will use a special list to display the package description in its main view window.

If in the "Running" column of BUM main window list you have displayed a question mark (?) it means that BUM doesn't have a nicer description for the service and so it is showing the apt-cache description. The internal "human-text" list is under a constant updating process. To contribute to this list, please feel free to update this wiki-web page.
Changelog
v. 2.5.2

fixed icon extension in desktop file
code cleaning
fixed manpage (Closes: #389889)
v. 2.5.0

Dropped Glade, introduced GtkBuilder
v. 2.2.0

Introduced new localized service descriptions
v. 2.1.10

Fixed ubuntu bug #114187
Introduced new localized service descriptions
v. 2.1.9

Fixed bug on web site address
Updated init-scripts database
v. 2.1.8

Fixed bug on screen refresh after applying
Added new Hungarian translation
Updated french translation
v. 2.1.7

Updated init-scripts database
v. 2.1.6

Changed gksudo with gksu
Added new Norwegian and Korean translations
v. 2.1.5

Dropped lock file
Added new translations
v. 2.1.4

Added new init descriptions
Fixed bug on summary description
v. 2.1.2

If "human" description is not provided, defaults to apt-cache
New help menu item added
v. 2.1.1

Dropped sys/ioctl.ph requirement (implicit)
Fixed minor bugs on PPC
Added hebrew translation
Added full sort capability over every column in any view
v. 2.0.0

Full code & GUI re-styling
Introduced new Advanced mode to distinguish normal user from expert
v. 1.3.4

Using Gtk2::AboutDialog to remove dependency from libgnome2
v. 1.3.3

Minor bugs removed
Added polish translation
v. 1.3.2

Minor bugs removed
More strict on sysv-rc standards
Removed editing capabilities from runlevel S
v. 1.3.1

Full compliance with sysv-rc recommendations
v. 1.3.0

Introduced new friendly descriptions for init scripts
Visual feedback for running services
Removed useless functions
Fixed bug on rcS.d

v. 1.2.7

Removed bugs on localization
v. 1.2.6

Name changed
All actions are now logged in syslog
Added localization for italian, french, spanish, ducth and german
GUI change: added a "Summary" tab view
v. 1.2.5

Added management for services in rcS.d directory
v. 1.2.0

Major GUI re-design.
Added context-sensitive popup menu by right-clicking on the list.
New functions: Change Startup Priority - Activate/Deactivate script on-the-fly - Start/Stop service.


v. 1.0.1

Changed funtion "Save & Exit" to "Apply Changes". Program now doesn't need to exit to apply changes to runlevel scripts.
When a script is removed, a copy is saved in /var/lib/ubm
Minor bugs fixed


v. 1.0.0. april 17,2005 - First release
Feedback
If you need more information, or if you simply need to contact me, my e-mail address is